5 Potential Goalie Options for the Golden Knights with Robin Lehner Out for 2022-23 Season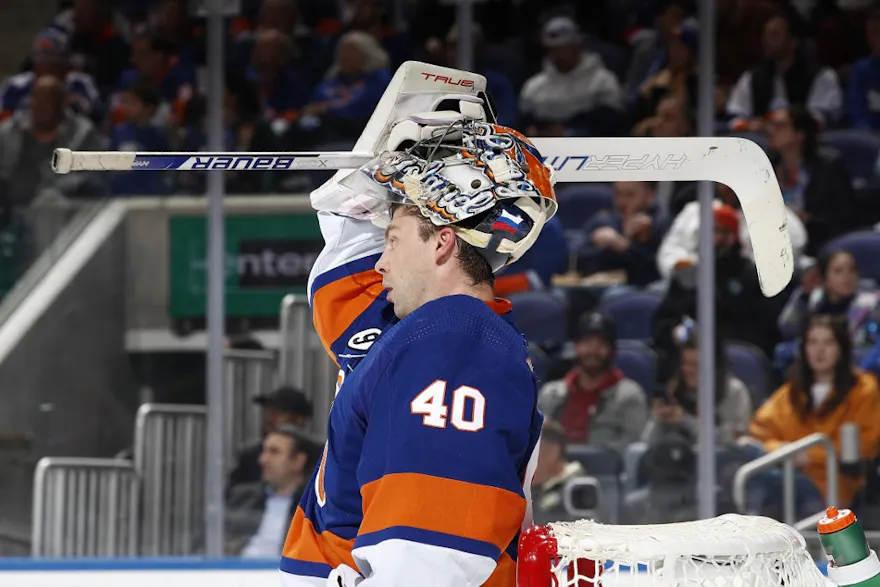 The Vegas Golden Knights have announced that goaltender Robin Lehner is going to have hip surgery and will miss the entire 2022-2023 season.
What does this mean for a Golden Knights team that missed the playoffs for the first time in franchise history last season and surely expects to be a contender this season?
In the past four seasons, Lehner has recorded a .918 save percentage in 145 games, finishing third in Vezina voting in 2018-2019 and sixth in 2019-2020. He has three years remaining on a contract that comes with a $5 million cap hit and will pay him $6.5 million this season.
Laurent Brossoit is under contract for the 2022-2023 season at a cap hit of $2,325,000 but he is recovering from his own offseason hip surgery. Brossoit has appeared in 78 games over the past four seasons, posting a .908 save percentage in a backup role.
If Brossoit is not ready to start the season, that would leave Vegas with an even more dire situation in the crease.
Here are some possibilities for the Golden Knights to consider in the wake of Lehner's surgery announcement.
Logan Thompson
Thompson is a 25-year-old who played for the Brandon Wheat Kings of the Western Hockey League and even one season with the Brock Badgers, a Canadian university team, before turning pro. He was thrust into a major role down the stretch last season, due to injuries sidelining Lehner and Brossoit, and Thompson turned in a solid performance, including a .914 save percentage in 19 games. That was strong enough to put him in consideration for an NHL job this season but, as it stands now, he might have the inside track on the starting job.
Thompson is on a bargain contract that comes with a cap hit of $766,667 when he is in the National Hockey League.
Check out the latest comprehensive and most trusted Sportsbook Reviews by SBR.
Semyon Varlamov
The 34-year-old New York Islanders backup has been playing a reduced role as Ilya Sorokin has emerged as the starter in goal, but Varlamov finished fifth in Vezina Trophy voting as recently as the 2020-2021 season. He has been an above-average goaltender for most of his NHL career, a career that started when he was drafted in the first round by the Washington Capitals in 2006. The General Manager of that Capitals team was George McPhee, the Golden Knights' President of Hockey Operations.
Varlamov is in the final year of his contract, with a $5 million salary cap hit.
James Reimer or Adin Hill
When the San Jose Sharks acquired Kaapo Kahkonen from the Minnesota Wild at the trade deadline last season, that left San Jose with three NHL goaltenders.
Reimer is a 34-year-old who has been an above-average goaltender for most of his career and he had a .911 save percentage in 48 games for the Sharks last season. Reimer has a five-team no-trade list and comes with one year left on his deal with a very reasonable $2.25 million cap hit.
If the Sharks are not inclined to move Reimer, then maybe Hill is the target. He is a 26-year-old who played a career-high 25 games last season and has a .908 save percentage in 74 career games. Hill has one season, with a cap hit of $2.175 million left on his contract.
Either Reimer or Hill would be quality options for the Golden Knights under the circumstances.
Alex Nedeljkovic
After he was a finalist for the Calder Trophy with the Carolina Hurricanes in the 2020-2021 season, the 26-year-old struggled through his first season in Detroit, posting a .901 save percentage in 59 games for the Red Wings.
The Red Wings responded by signing free agent goaltender Ville Husso, but they also signed 31-year-old Finnish netminder Jussi Olkinuora, who has played well for Finland in international play over the past few years while also delivering strong results in the KHL over the past three seasons.
That doesn't mean that the Red Wings are giving up on Nedeljkovic, but they might be inclined to listen if Vegas makes a compelling trade offer.
Nedeljkovic has one season, with a $3 million cap hit, left on his deal.
Stanley Cup Odds
Here are the latest Stanley Cup odds from DraftKings, FanDuel, and Caesars.
The Golden Knights' Stanley Cup odds have not moved dramatically. No movement at DraftKings or Caesars after the news, but odds shifted from +1600 to +1700 on FanDuel.

Make sure to keep an eye on our Live Odds page throughout the week to get the best lines possible and connect with others in the SBR community on our popular sports betting forum