5 Auston Matthews Props to Watch for in Game 1 vs. Lightning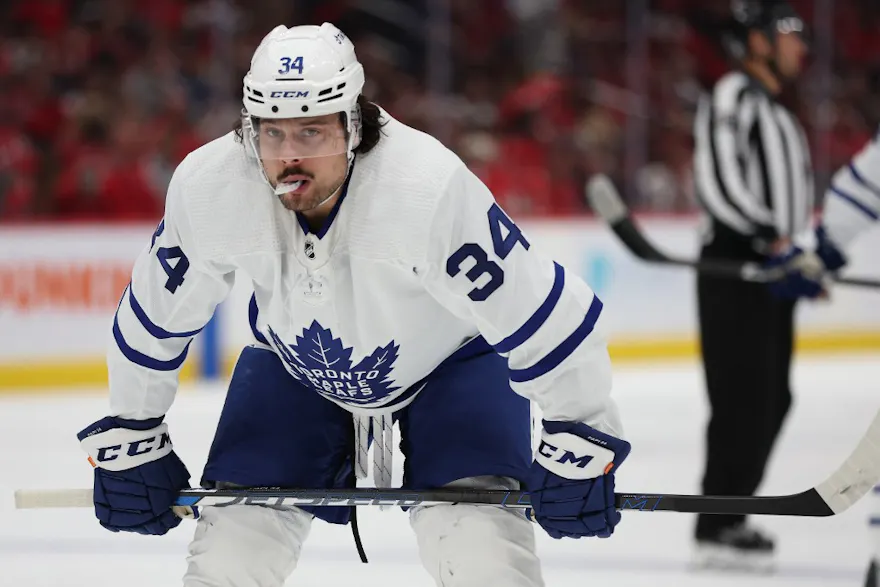 The Toronto Maple Leafs are slightly favored heading into their first-round playoff series against the two-time defending-champion Tampa Bay Lightning.
If the Maple Leafs are going to rise up and at least get through the first round, they will need their best players to perform at a high level.
Sportsbooks have many offerings for Game 1 player props for Maple Leafs star Auston Matthews.
Here is a look at Auston Matthews props available at DraftKings, FanDuel, and Caesars.
Check out the latest comprehensive and most trusted Sportsbook Reviews by SBR here.
Matthews led the National Hockey League with 60 goals this season, despite missing nine games with various injuries. It was the second straight season in which Matthews led the league in goals, but he elevated his game across the board, setting career highs in per-game goals, assists, points, and shots on goal.
As great as he was during the regular season, Matthews does have a problematic matchup, taking on the Tampa Bay Lightning.
This team has won back-to-back Stanley Cups and has goaltender Andrei Vasilevskiy, who won the Conn Smythe Trophy as Playoff MVP last season.
Matthews had a goal-scoring season for the ages in 2021-2022.
After scoring seven goals in his first 17 games, perhaps affected by offseason wrist surgery, Matthews scored 51 goals in his next 50 games. He scored at least one goal in 18 of 34 home games this season.
The challenge facing Matthews is that he meets a Lightning team that ranked seventh in the league, allowing 2.73 goals against per 60 minutes. They also ranked 14th in expected goals against, so they might have been too dependent on goaltender Vasilevskiy to maintain that better-than-average defensive record.
Matthews finished with a career-high 106 points this season, and that included 49 points in 34 home games, getting at least two points in 19 of those 34 games.
While he has always been a prolific shooter, Matthews elevated his shot production this season and led the league with 348 shots on goal. That included 158 shots on goal in 34 home games (4.65 per game), and he recorded at least five shots on goal in 16 of 34 home contests.
Although Matthews recorded a career-high 29 power play points this season, his power play production relative to his overall point totals was a little higher in 2019-2020.
The big potential payout on a Matthews prop is to catch him as the game's first goalscorer. He is the favorite to do it, and deservedly so; 31 of Matthews' 60 goals this season came in the first period, so he does not waste time getting on the board.
Make sure to keep an eye on our Live Odds page throughout the week to get the best lines possible and connect with others in the SBR community on our popular sports betting forum.