3 Potential Landing Spots for Darcy Kuemper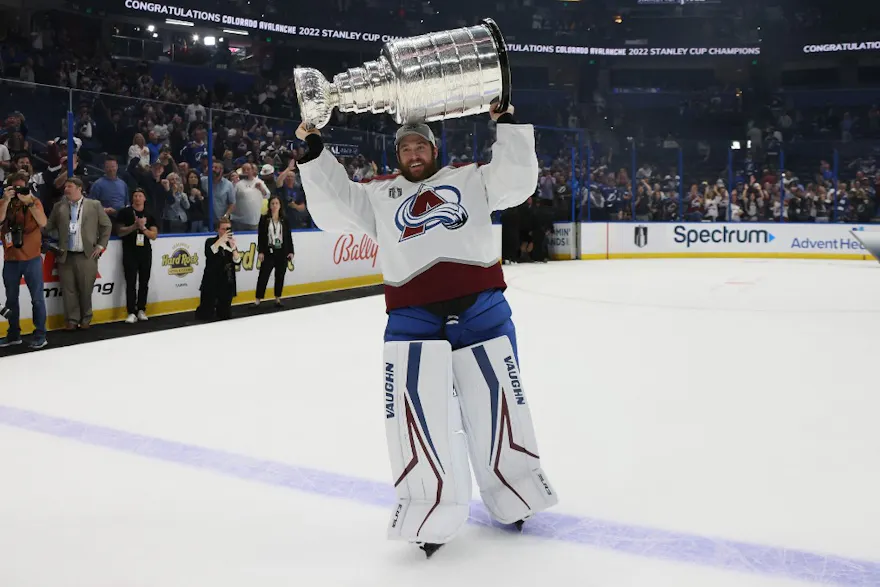 Unrestricted free agent goalie Darcy Kuemper is fresh off a Stanley Cup Championship and another solid regular season consisting of a 37-12-5 record, .921 save percentage, 2.54 GAA and 25.1 goals saved above average.
The 32-year-old netminder played the last two years on a $4.5 million cap hit and checks out among the top available free-agent goaltenders this offseason. He's eyeing a notable raise.
Here are 3 potential landing spots for Kuemper if he doesn't re-sign with the Colorado Avalanche.
Edmonton Oilers
The Oilers have 40-year-old Mike Smith under contract for the 2022-23 campaign at a manageable $2.2 million cap hit, but he's proven incapable of putting the club over the top each of the past three years.
Edmonton needs an upgrade in goal, bottom line.
Unfortunately, the organization is also up against the salary cap.
Additionally, while superstar forwards Connor McDavid and Leon Draisaitl are still in the prime of their careers, the championship window inches closer and closer to shutting every spring.
In a best-case scenario, Smith retires to open more cap space for Edmonton to pursue a go-to No. 1 goalie.
While Kuemper fits the bill, competition will be fierce for his services, and landing with the Oilers is a likely a longshot.
Check out the latest comprehensive and most trusted Sportsbook Reviews by SBR.
New Jersey Devils
Goaltending sunk the Devils last season.
New Jersey ranked last in the league in five-on-five team save percentage despite ranking a middle-of-the-road 14th in expected goals against.
The Devils are closer to competing for a playoff spot than most might think, too. 
It's also important to remember the organization made a hefty free-agent splash last year by inking defenseman Dougie Hamilton to a $63 million, seven-year contract.
Would the New Jersey brass open their wallet again to shore up their goaltending and expedite the team's rebuild?
Of course, Kuemper might be hesitant to join a rebuilding team after spending four years with the Arizona Coyotes.
Toronto Maple Leafs
The Maple Leafs have an in-house option to consider during the offseason with pending unrestricted free-agent goalie Jack Campbell eyeing a sizable raise.
Campbell made a career-high 47 starts for Toronto last year, and he posted a respectable 51-14-9 record, .916 save percentage, 2.50 GAA and 17.6 goals saved above average during his three-year tenure with the organization.
He's a definite candidate to re-sign with the club.
Toronto also has injury-prone Petr Mrazek under contract the next two seasons at a $3.8 million cap hit. The 30-year-old Czech has been limited to just 68 starts the past three seasons, and the organization is understandably uncomfortable with him as anything other than a timeshare option.
The Maple Leafs will have to do some fancy calculator work, negotiating, and make a deal or two to sign Kuemper and stay under the salary cap, but the pressure is on with Hart Trophy winner Auston Matthews entering his final two seasons with the club.
While definitely another long shot in this specific case, the Toronto front office has to be considering a huge move – or string of moves – this summer.
Regardless of what the offseason brings, the fanbase will remain lunatically optimistic.
Stanley Cup odds via DraftKings, FanDuel and Caesars.
Make sure to keep an eye on our Live Odds page throughout the week to get the best lines possible and connect with others in the SBR community on our popular sports betting forum.