2022-23 NBA MVP Longshot Picks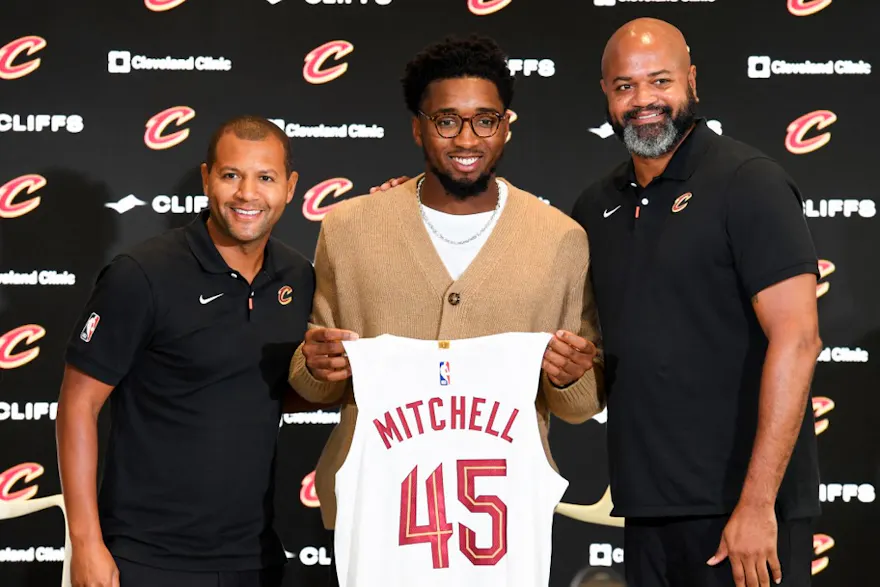 It's rare for an NBA star to win three straight regular season Most Valuable Player awards.
How rare? It's only happened three times in league history. Boston Celtics forward Larry Bird did it from 1984-86. Wilt Chamberlain of the Philadelphia 76ers did it from 1966-68. And Bill Russell, another Celtic, did it from 1961-63.
So the chances of two-time MVP Nikola Jokic of the Denver Nuggets completing a three-peat aren't in his favor. After all, it was Jokic who ended Milwaukee Bucks forward Giannis Antetokounmpo's two-year hold on the Maurice Podoloff Trophy with his first of two MVP wins.
If history holds, it means there is a strong chance this year for a newcomer to potentially step into the running. While the favorites such as Jokic, Antetokounmpo, Stephen Curry, LeBron James and Joel Embiid exist, there are always the less popular choices.
Here's a look at five darkhorse candidates who could have a solid shot at the league's top honor (MVP odds accurate as of Monday, Sept. 26 at 2 pm ET):

Zion Williamson, New Orleans Pelicans
| Sportsbook | Odds |
| --- | --- |
| Caesars | +3500 |
| BetMGM | +3000 |
| FanDuel | +3600 |
| DraftKings | +3500 |
| PointsBet | +4000 |
| Barstool | +4000 |
Ever since Williamson entered the league, the question has always been the same: Can he stay in shape?
Apparently, Williamson is the leanest of his NBA career and this could mean trouble for Pelicans opponents. Williamson has averaged 25.7 points, seven rebounds and 3.2 assists in his two seasons.
His ability has never been disputed – and his trainer Jasper Bibbs recently said Williamson has transformed his body this offseason.
"We focused on addressing body composition — his body weight, body fat, etc. — while maintaining and improving flexibility, strength and power," Bibbs told The Athletic earlier this month. We also focused on improving his overall fitness ... in the process, he's improved athletically. I truly think he's a better athlete now than he was before."
If Williamson is better than before, look out. The Pelicans finished eighth in the West last year but wins aren't as necessary in this case. Williamson is in the category of Russell Westbrook, where he is capable of putting up big statistics to help offset team success.
Anthony Davis, Los Angeles Lakers
| Sportsbook | Odds |
| --- | --- |
| Caesars | +6000 |
| BetMGM | +5000 |
| FanDuel | +4600 |
| DraftKings | +6000 |
| PointsBet | +4000 |
| Barstool | +6000 |
At some point, the Lakers were hoping Davis could finally take over the lead role for LeBron James.
It hasn't happened for a couple of reasons. Primarily, James is still one of the league's best players. Also, Davis has been saddled with injuries the past two years. After helping the Lakers win the title in 2020, he has played just 76 games since.
Davis, now healthy again, is ready to regain his perch as one of the NBA's top 10 players. The former No. 1 pick is only 29. There is still plenty of time for him to shed the nickname "Street Clothes," given to him by TNT analyst Charles Barkley because of his injury history.
When in game uniform, Davis poses problems for any opponent and new Lakers coach Darvin Ham knows he remains the key cog for their success.
"When he's healthy like he was in 2020 in that bubble run, he's top-five in the league easy, top-three," Ham said on a Showtime podcast in July. "This is not going to work without AD. … He's the centerpiece to that championship table that we're trying to build."
Anthony Edwards, Minnesota Timberwolves
| Sportsbook | Odds |
| --- | --- |
| Caesars | +7500 |
| BetMGM | +5000 |
| FanDuel | +6000 |
| DraftKings | +6000 |
| PointsBet | +6600 |
| Barstool | +10000 |
The Timberwolves had one of the busiest offseasons of any team. They acquired Rudy Gobert from the Jazz, pairing him with Karl-Anthony Towns to give the Wolves perhaps the best frontcourt tandem in the league.
Gobert's defense and Towns' rebounding leaves Edwards free to do what he does best: score. Last year Edwards averaged 21.8 points, 4.8 rebounds and 3.8 assists. The Timberwolves, who finished 46-36 and were the No. 7 seed in the West last year, have plenty of assets to compete with conference heavyweights such as the Warriors and Phoenix Suns.
If they can finish in the top half of the conference and Edwards has a big year, he deserves a spot in the race. The best thing about it is he's ready.
"In five years, I want to be the face of the league and have a couple of MVPs by then and have a ring," Edwards said in an interview with Bleacher Report earlier this year. "In five years, I would expect to go to the Finals for sure."
One potential obstacle standing in Edwards' way: the insensitive comments he made toward the gay community earlier this month that drew a $40,000 fine. Hopefully, he uses it as a learning point instead of letting the backlash affect his play.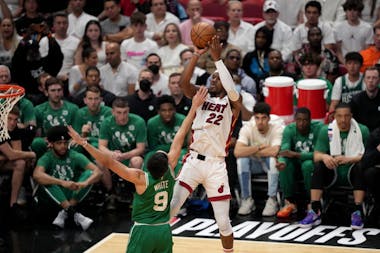 Jimmy Butler, Miami Heat
| Sportsbook | Odds |
| --- | --- |
| Caesars | +7500 |
| BetMGM | +5000 |
| FanDuel | +5000 |
| DraftKings | +5000 |
| PointsBet | +4000 |
| Barstool | +6000 |
All Butler has to do to win MVP is play in the regular season like he did during last year's playoffs.
The problem with that? It's almost certainly not going to happen.
Butler had one of the greatest postseasons in league history, averaging 27.4 points, 7.4 rebounds and 4.6 assists in 17 playoff games. He had four 40-point games as the Heat fell one victory shy (Butler missed a late 3-pointer in Game 7) of a second NBA Finals appearance in three seasons.
The Heat need to finish No. 1 in the East again for Butler to have any shot at MVP. He doesn't put up huge numbers but a case could be made if the Heat were atop the standings.
And it could happen.
The Heat return basically the same team as last year. They are among the most experienced teams in the league. If Butler has another All-Star year and the Heat are successful, voters will have a hard time ignoring him again.
The only question is whether Butler can hold up. He spent the early portion of his career in Chicago playing under coach Tom Thibodeau, who has no problem putting miles on players. It was largely the reason Butler checked in at only No. 17 on the ESPN Top 100 preseason player rankings. Some feel his best years are behind him.
"Butler's career has been defined in part by his ability to perform at a high level no matter what lingering injury he is dealing with," ESPN's Nick Freidel wrote. "But at age 33 it remains to be seen if all the minutes he has logged since coming into the league in the 2011-12 season have taken a toll. Butler has played in just 109 out of a possible 154 games over the past two seasons."
Donovan Mitchell, Cleveland Cavaliers
| Sportsbook | Odds |
| --- | --- |
| Caesars | +8000 |
| BetMGM | +6600 |
| FanDuel | +6500 |
| DraftKings | +8000 |
| PointsBet | +6600 |
| Barstool | +6000 |
The Cavs were among the league's surprise teams last year, finishing ninth in the Eastern Conference at 44-38. They then acquired Mitchell from the Utah Jazz in the biggest trade of the offseason.
The Cavs already had a dynamic lineup that included guard Darius Garland, center Jarrett Allen and forward Evan Mobley. Adding Mitchell puts the Cavs in a contending role in the East.
While Garland, Allen and Mobley are talented, Mitchell is the engine. If Cleveland has a successful season, he could deserve MVP consideration. His teammates may have better numbers but Mitchell would get the Steve Nash treatment.
When Nash won his two MVPs, Amar'e Stoudemire and Shawn Marion were the top scoring options; Nash took home the hardware because he was responsible for keeping everything together.
Mitchell would be in a similar role because he is the oldest of the Cavs' young core.
"We could really build something special," Mitchell told ESPN earlier this month. "I'm just excited to play with this team, play for this city, play with these guys and just get out there and just compete and win."
Sportsbook Reviews
Caesars | BetMGM | FanDuel | DraftKings | PointsBet | Barstool
Sportsbook Bonuses (U.S. Only)
Caesars | BetMGM | FanDuel | DraftKings | PointsBet | Barstool