Sahara Bets Review
US Sports Bettors Accepted
Things to Consider Before Signing Up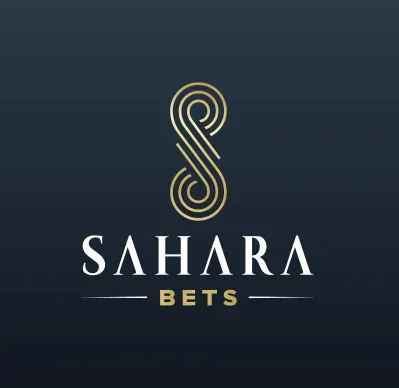 Pros
App and Website are easy to navigate
Much more advanced than most small market sportsbooks
Great for beginners
Cons
Can only place bets while in the state of Arizona
Behind its national competition in terms of what it offers to the more seasoned betting crowd
Need to play through $2000 in order to redeem the full welcome bonus
Bonuses
Sahara Bets Welcome Bonus: First Time Deposit Match up to $250
Now through January 31, get up to $250 in Free Bet vouchers when you make your first deposit. Free Bet vouchers will be applied to your bets at 5% of the Free Bet voucher value, until the full amount is used. Vouchers must be used on games with odds of -200 or greater and must be used within 30 days of being issued.
Birthday Offer
Now through January 31, get $10 in free bets on your birthday
Basketball Parlay Bonus
Now through April 14, earn a $10 Free Bet voucher when you place two or more basketball parlays at $50 each. Weekly earning periods are from Tuesday to Friday. All parlays must be a minimum of three legs and only include NBA or college basketball.
Sahara Bets Review
Arizona entered the legal sports betting world in September of 2021. In January of 2022, Alex Meruelo, owner of the SAHARA Las Vegas, threw his hat in the ring when he partnered with the Arizona Coyotes to offer another online sportsbook option to the state.
Sahara Bets Quick Facts
| | |
| --- | --- |
| 🏅 Rating | C |
| 🏢 Founded | 2022 |
| 🎰 Casino | ❌ No |
| ₿ Cryptocurrency | ❌ No |
| 📱 Mobile Apps | ✅ Yes (iOS, Android) |
Sahara Bets Locations
SaharaBets can only be accessed via the SaharaBets app or on the website. There are no physical kiosk locations available. However, the other three major sports teams in the state all have onsite betting in their venues. That option may be available to SaharaBets customers should Meruelo succeed in building a new arena in Tempe for the Coyotes.
You can access the app and the website from anywhere in the world, but must be present in the state in order to place bets.
Sports Leagues to Bet On
NFL Betting
A full menu of NFL games can be found weekly. Standard bets are available including moneyline, spreads, and point totals. Each game also offers team point total bets as well as first half and first quarter bets. Odds are favorable and on par with several of its major national competitors.
A modest futures market includes bets on divisional winners, conference winners, and overall champion. Notably missing here is a larger prop market. Player props are not available nor are any type of game props outside of the few point total offerings on each game.
There are several ways to place bets once inside your betslip. You can choose to buy points, tease totals, or place straight parlays or even round robin bets.
NBA Betting
Fans of the hardwood might be a little disappointed at the limited options for NBA betting. Yes you can find every game on the slate available to bet, however, only moneyline, spreads, and point totals make up the narrow range of bets on the slate.
You will find a set of futures that include division and conference winners as well the NBA champions.
College Football
The FBS is represented in full on SaharaBets. Each week, every matchup across the major college football conferences are available to bet with moneyline, spreads and point totals listed for both the entire game as well as the first half. I was also able to find at least one FCS game to bet on one of my visits to the website.
Prop betting on college sports is not legal in Arizona and as such is not available on any sportsbook including this one. However, you are able to place futures bets on individual conference winners as well as the NCAAF champions.
College Basketball
In season college basketball gives you all the action from across the nation. Of course, you can place your bets ahead of time and any time during the season on who will cut down the final net once the championship bracket is complete.
NHL Betting
SaharaBets is owned by Alex Meruelo who also owns the Arizona Coyotes so you know the NHL is alive and well on his sportsbook. Bet on every game on the slate every night with puck lines, moneylines, and point totals open on each.
Unfortunately, there are zero offerings in terms of prop betting. No player or game props are available on any of the games even when selecting an individual matchup. You can place bets on who will win their division, conference, and the Stanley Cup.
MLB Betting
There are plenty of ways to bet on baseball on the SaharaBets sportsbook. Outside of the basic three betting options, you can break each game down further to find first five inning bets, individual inning bets, as well as team run totals.
Live betting is also available on the app and the website. However, unlike some sportsbooks that allow you to bet down to each upcoming pitch, SaharaBets keeps it simple by allowing only the moneyline, spread, run total, and team runs bets.
Other Sports Leagues
Outside of the major sports markets, SaharaBets offers more than its fair share of secondary leagues. These include, CFL, golf, MMA, motorsports to include all three series in NASCAR and Formula 1, several soccer leagues from around the world as well as World Cup, ATP and WTA tennis.
Online Betting Experience
Website Experience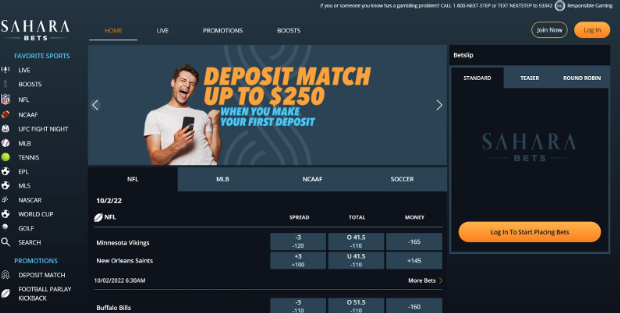 Mobile Betting and Betting App
The SaharaBets app mimics the website in almost every way functionally. As such, it is easy to navigate and you are never far away from whatever you might be looking for. All bets auto populate on your bet slip which can be accessed at any time through a tab on the bottom of the screen.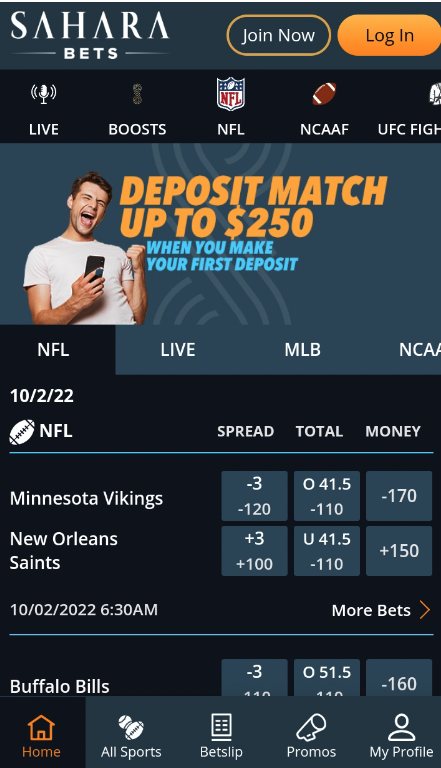 Also the same as the website, you are allowed to place teaser and round robin bets as well as buy points. All of this can be done directly from your bet slip with the odds and possible payouts calculated as you go.
Current promos are displayed as scrolling banner ads but are not distracting and when clicked takes you to an offer screen that does not leave the app.
Live Betting
Betting on live events can be done easily through both the website and the app. The live tab can be found on the sidebar as well as at the top of both. Once accessed, all live events are displayed and you can choose to bet on standard moneyline, spread, and point totals which shift as the games progress.
Clicking on each event will give you a few more options. For example, during live betting in baseball, you can select over/unders on team total runs.
Casino, Poker, & Other Gaming Options
Despite its association with the Sahara Casino in Las Vegas, there are no additional gaming opportunities offered on the SaharaBets app, or website.
Sahara Bets History
There was not a lot of time between the January 5th announcement and the January 12th launch of the SaharaBets Sportsbook. In the initial press conference it was announced that Alex Meruelo was set to bring his SAHARA Las Vegas brand along with his Arizona Coyotes affiliation into the state's sports betting community. A week later, his product hit the market.
The sportsbook is powered by the International Gaming Technology sports betting system. Before the growth in sports betting in the United States, IGT mainly operated in Europe. It has now made its way to the U.S. by way of Las Vegas and Providence, Rhode Island.
Glitches in the app shortly after launch left many of the early adapters frustrated. Many of those issues have been ironed out over the year and now the platform is stable and functional.
Customer Ratings & Reputation
When the SaharaBets app launched in January, there were numerous issues noted. There were many reports of users unable to open the app at all or having trouble with depositing funds using the PayNearMe platform.
I did not experience any of those issues as I was able to not only open, but navigate through all the options every time I attempted to access the app over a three day period.
Customer Service
Calling the toll free number will connect you to an automated phone message walking you through the basics of using the SaharaBets app. At the end, you will be given the option to press "9" to speak to a representative during available times.
Sahara Bets Contact
Information regarding the contact information for SaharaBets customer support can be found by clicking the FAQ link at the bottom of both the app and the website. They can be reached via email and phone using the following:
Email: support@SaharaBets.com, Phone: 1-800-634-6010
Emails will be answered between 8 am and 8pm Pacific. Phone support is offered between 12 pm and 5 pm Pacific.
Sahara Bets Legal Betting
The SaharaBets sportsbook is licensed by the Arizona Department of Gaming.
Responsible Gambling
The legal age for sports betting in most states is 21+. This is subject to regional regulation. Please play responsibly. SaharaBets Sportsbook complies with the rules laid down by the regulating bodies in the state in which it operates.
Here are a few resources to help ensure you are gambling responsibly.
National Council on Problem Gambling (NCPG): The NCPG has over 50 years of experience assisting people and families affected by problem gambling. You can call or text them (1-800-522-4700) or join their 24/7 Live Chat.
Center for Problem Gambling: The Center has been funded by the New York State Office of Alcoholism and Substance Abuse Services (OASAS) since 1996. They are committed to serving anyone affected by a gambling addiction. Treatment is confidential and provided regardless of a person's ability to pay. Their gambling counselors have significant experience working with problem gambling and include therapists who are Nationally Certified Gambling Counselors.
BeGambleAware.org: Offers free, confidential help and support to anyone worried about gambling for themselves or others.
Gambling Therapy: A global service provided by Gordon Moody offering free emotional support and advice to anyone affected by gambling.
Why Choose Sahara Bets?
If you are new to sports betting and are looking for a site that is not intimidating, you will enjoy your experience with the SaharaBets sportsbook. Also, if you are just looking to bet recreationally on sports, you can do so here and be satisfied with your options.
The app and the website are both easy to navigate. They are also not cluttered to the point where you are unable to locate what you are trying to find. Bets are auto populated to your bet slip and calculated instantly.
However, if you are a serious sports bettor who thrives on a vast array of prop bets and an active live betting selection that offers more than the standard bets, you will find yourself frustrated with this book. The overall lack of depth will leave you looking elsewhere for your action.
Overall, the SarahaBets sportsbook is adequate for those who just want to have something riding on the sporting event of their choice. It is much better than most of the smaller sportsbooks, but is behind its national competition in terms of what it offers to the more seasoned betting crowd.
Play Now
Banking
Accepted Currencies
Methods of Deposit

Min:

$10
Max:

N/A
Fee:

Free

Min:

$10
Max:

N/A
Fee:

Free

Min:

$10
Max:

N/A
Fee:

Free

Min:

$10
Max:

N/A
Fee:

Free
Min:

$10
Max:

N/A
Fee:

Free

Min:

$10
Max:

N/A
Fee:

Free

Min:

$10
Max:

N/A
Fee:

Free

Min:

$10
Max:

N/A
Fee:

Free
Depositing funds can be done on the website or in the app. Once logged in to your account, click on the "Add Funds" button on the top right to navigate to the "Cashier" screen. From there you can select which Cashier option you would like to use to fund your account. You must deposit a minimum of $10 in order to proceed.
SaharaBets currently offers the following options to fund your account:
Debit Card
Credit Card
Apple Pay
PayNearMe Cash
SaharaBets Play+
Methods of Withdrawal

Log into your account and click on the My Profile button and then click on the Withdrawal button. Funds can be withdrawn to a Bank Account, Debit Card or through your SaharaBets Play+ account.